BOREAL24
BOREAL saws are revolutionary folding bow saws that effortlessly unfolds in seconds for easy, high performance cuts.  The blade's length is optimally sized for powerful sawing strokes, and yet short enough for packability.  And the 3 hinged trapezium-shaped frame allows large diameter cuts.  The blade safely folds into the frame when not in use, protecting you and your gear.
Take the BOREAL24 folding bow saw wherever you go - camping, backpacking, canoeing, off-trail, hunting, trail clearing or around the home.
LIGHT & PACKABLE: 
Length
24.75"/62.9cm
Weight
1.29 lbs /21oz /595g
Frame
Anodized Aluminum
Handle & Tension Arm
Fiberglass reinforced Nylon
Hardware
Stainless Steel
FEATURES
Opens in seconds with one smooth motion - because it's one connected assembly - so there's no fumbling with loose parts
Blade tensioning is automatic, reproducible and set to provide optimal sawing performance every time
No need to touch the saw blade during opening and closing. Saw teeth are completely concealed protecting you and your gear.
High clearance geometry
Simple and fast blade replacement - no special tools required
Grip handle angle is designed to optimize stroke power vs saw balance
Grip handle is ergonomically designed for maximum comfort
Grip handle material made of durable and weather resistant nylon
Framing made of high strength extruded and anodized aluminum (no twisting) with all stainless steel hardware
Light weight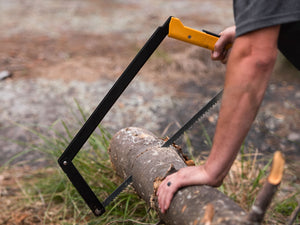 GREAT FOR BIG TASKS
High clearance frame for large diameter cuts, optimized geometry for the most efficient saw stoke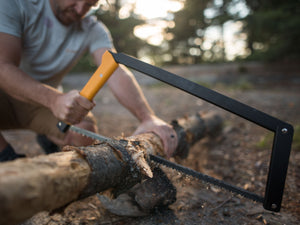 MORE BLADE FOR MORE POWER
The longest of the BOREAL saws means it's the most efficient and fastest at cutting.