ADK26
Can't decide between a hatchet and an axe?Are you torn between the compact precision of a hatchet and the power of an axe? Let's face it, you probably don't have the space nor the weight allowance for both. Don't worry,  we've got the perfect solution
The ADK26 is designed to tackle both tasks flawlessly. As a hatchet, the head's Scandinavian-style bit allows you to carve with precision. Then, add the handle extension, now you've got a 26" axe- with a wide-cheeked head- that delivers powerful log splitting performance.  When you're finished, just disconnect the handle and pack everything into one compact cordura sheath.
It's the perfect tool to handle any outdoor challenge.
LIGHT & PACKABLE: 
Length
14IN Hatchet
26IN Forest Axe
Weight
2.1LB/.95KG Hatchet
2.5LB/1.13KG Forest Axe
Handle
Long Fiber reinforced Nylon
Hardware
Stainless Steel
Bit Sheath
Full Grain Leather
Sheath
Hand Made Cordura

FEATURES
Extremely packable
Drop forged & hardened 5160 carbon steel axe head - black oxide finish for added added rust protection
Impact modified nylon 6 with long glass fiber handle - super tough, low vibration
Stainless steel attachment clips
Ergonomic wood grained handle - feels just right as a hatchet and an axe
Revolutionary Joint
our compression joint between the two parts ensures
absolute stability. No wobbling, no movement. Plus, stainless steel clips keep
the ADK 26 securely locked together, eliminating any risk of separation.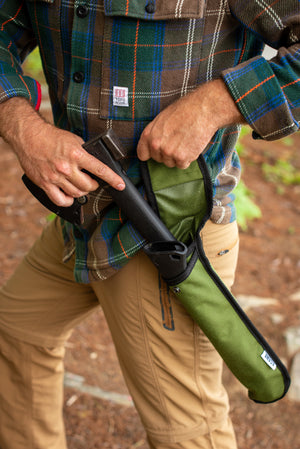 Packable and Versatile
The ADK26 comes complete with its own robust Cordura sheath, ingeniously designed to house all its components until the moment they're needed. When it's time for lighter duties, effortlessly slide out the hatchet; conversely, keep the extension handle discreetly tucked away for those times when you require additional strength.
Crafted by hand, the Cordura sheath also provides the flexibility to transport the axe either fully extended or disassembled, thanks to a convenient pass-through opening at the bottom. Plus, a handy clip tool is included for easy joint clip release when you're ready to pack everything back up.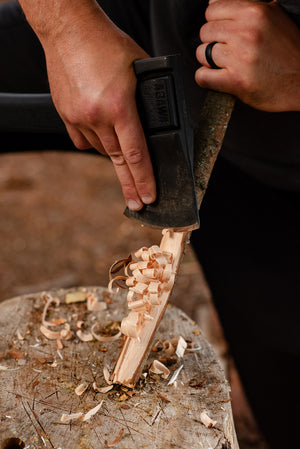 Refined Head Design
The refined head makes easy work of small splitting, carving, shaping, and creating feather sticks. Its Scandinavian-inspired and crafted from drop-forged 5160 carbon steel,
delivers precision and control with every swipe.
Durable
Durability is a top
priority for us. We know that Mother Nature can be tough, so we've built the
ADK 26 to withstand the harshest conditions. From its rugged construction to
the hardened butt that doubles as a hammer, it's designed to handle whatever
you throw at it.
Takes on Big Tasks
with a simple extension the ADK transforms
into a 26-inch forest axe, ready to tackle bigger tasks. The wide cheeks on the
axe head provide the power you need for splitting logs and handling larger
tasks.
See what the Pro's are Saying!